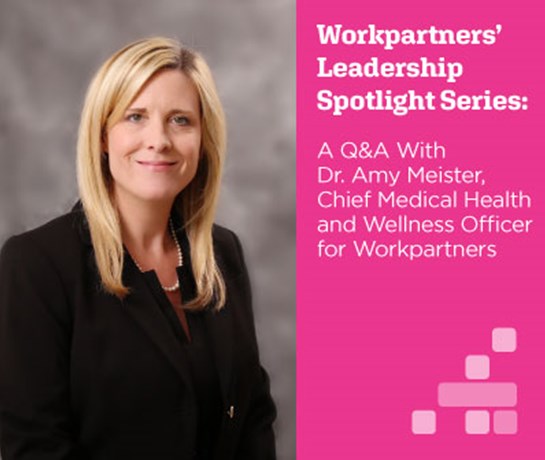 Company News
Workpartners' Leadership Spotlight Series: Dr. Amy Meister
A Q&A with Dr. Amy Meister, Chief Medical Health and Wellness Officer for Workpartners
Dr. Amy Meister joined Workpartners® as chief medical health and wellness officer in April 2021. A native of Wheeling, WV, Dr. Meister previously worked at UPMC as vice president of hospitalist operations and medical director at the Center for Hospital Medicine. She then spent more than three years as the president of worksite solutions at MedExpress, growing its number of on-site clinics from just 2 to 60 across 27 states.
In July 2019 Dr. Meister was named the chief executive officer of Level2, a startup within UnitedHealth Group focused on helping individuals living with type 2 diabetes. She stayed in that role until accepting her current position with Workpartners in April.
"I was constantly looking at UPMC's integrated delivery and finance system and marveling at the combination of clinical and data expertise," Dr. Meister explained of her time traveling the country for work. "With my experience in on-site solutions, employee wellness clinics, and chronic condition management, I wanted to come to Workpartners to advance the vision of People Activation."
"It was time to come home," she said. "And I was fortunate that Workpartners received me with open arms."
Q: What are the most significant health challenges facing our workforces today?
A: There are so many. Obesity, diabetes, high blood pressure, and high cholesterol… We're also seeing an increase in behavioral health conditions, including stress, anxiety, and depression. The pandemic also created external stressors, like employment and financial concerns. So, when you look at all these things, it can seem daunting.
But there are strategies to reduce these threats to health and wellness. I like to compare people to cars. If you keep driving on a flat tire, you're going to damage other parts of the car. When it comes to health and wellness, we need to transition away from focusing on one disease or the other and focus on all the aspects that influence a person's physical, mental, and financial health—and that includes activities in the workplace as well as the context and conditions at home.
Q: Have companies' attitudes toward employee health and benefits changed during your time in the industry?
A: Employers have really started to recognize and act on these issues. The mentality of "brushing it off" isn't working for employers. Employers and the health care system need to help employees through these things.
COVID-19 changed a lot of things, including policies and procedures at work. For example, employers are much more flexible about giving employees permission to stay home when they're sick than before. It's sort of a no-brainer, but [before the pandemic], people were still coming to work sick due to leave policies or culture. That attitude is changing.
You can see it also in how the approach to the flu changed in the last year, which I hope will continue in future flu seasons. There were big questions about what the flu numbers would be [during the COVID-19 pandemic], but we saw employers encouraging employees to get the flu vaccine, practice good hygiene, and stay home if there were feeling ill. All of those factors contributed to small flu numbers over the past year.
Q: How has the wealth of data available and the advancement of technology and analytics impacted companies' ability to influence their employees' health and productivity?
A: I think there's a lot of buzz and jargon around data, analytics, and especially integration. These aren't bad words, but they mean something different to everybody and for every product.
What employers need to ask data and technology vendors who tout integration is, "What is your definition of integration?" From my perspective, it's really about interoperability: the ability to have a toolkit of parts that I can stick together in any way that I want to achieve my goals. So, for example, I can choose from a full suite of services that are relevant to my employee population and customizable to my particular needs.
A huge part of that interoperability is how to make data work in a secure environment. We need to merge data to learn more about our employee populations and support them, but it needs to be done securely.
Q: When thinking about that "toolkit," what should employers look for from their insurance or benefits companies?
A: First, employers need to be clear about what problems they are trying to solve with digital technology. There are so many solutions out there that it can be overwhelming. Surveying and understanding the needs of your population is critical to selecting the right tools.
I worked on a collaboration between Fitbit and Google in 2018. At the time, they ran a study that showed 22 percent of the U.S. population was wearing some type of activity tracker. Current estimates are around 33 percent.
These devices can give us continuous data that gives providers a better picture of an individual's health over time. For example, continuous glucose monitors for individuals living with type 2 diabetes help us understand a person's internal metabolism because a monitor registers about 255 readings per day.
We then need strong analytic models and AI to make that information useful. Employers should be looking for partners that can piece together data like the above to give a more holistic view of employee populations and individual employees.
Second, employers should look for companies focused on value-based care.
We often think more is better, but there's not always a positive correlation. We're looking for the best quality at the most affordable cost.
Part of that comes from the provider and consumer education—helping patients understand their health and treatment options. However, patients listen to their providers, so we need to help providers become more adept at value-based strategies, like [utilizing] preventive services or incorporating wearable devices.
Q: How does the combination of clinical expertise and robust analytic capabilities set Workpartners apart?
A: The most unique aspect [of Workpartners] is our ability to merge the occupational side of health and well-being with medical benefits. Many companies keep those things completely separate, and it's a disservice to their employees because work and health are so interrelated.
For example, before the pandemic, when a child was upset or experiencing stress in class—maybe they were being picked on or something was happening at home—they often complained of a "tummy ache." That ache is real; it's perceived. And it distracts the child from learning.
It's the same in the workplace. When employees are experiencing stress or anxiety, that can lead to medical claims and costs. It's also likely to lead to absence at work. And absences cost the employer a lot of time, effort, energy, and money.
Workpartners can look across the spectrum, take a 360-degree view of the person's health, and help employers understand how to improve the workplace to activate their people.