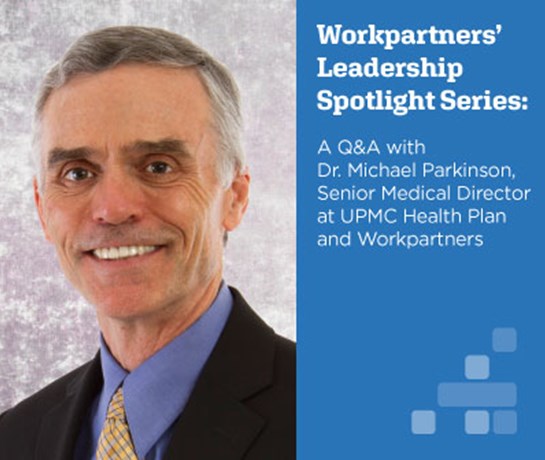 Company News
Workpartners' Leadership Spotlight Series: Dr. Michael Parkinson
A Q&A with Dr. Michael Parkinson, Senior Medical Director at UPMC Health Plan and Workpartners
Dr. Michael Parkinson has overseen Workpartners® and UPMC Health Plan's health and productivity strategies as senior medical director since 2009. He previously served as the president of the American College of Preventative Medicine and the executive vice president and chief health and medical officer for Lumenos, a pioneer of consumer-driven health plans.

Dr. Parkinson also served in the U.S. Air Force, rising to the rank of colonel. His final government assignment was as the associate director of medical programs and resources for the Office of the Surgeon General.
Q: You have a wealth of experience, from clinical work to business roles and time in the military. Is there a common theme that runs throughout your career?
A: Initially, I trained in family medicine because I realized the dynamic of the group we call "family" shapes our beliefs, culture, and behaviors. So, to effectively treat an individual, it's important to treat them within the context of family.
After that, I served my commitment to the U.S. Air Force in the intense military environment at Fort Bragg, home of the 82nd Airborne. They didn't really care about doctors, per se. They cared about getting the job done, which is very similar to the employer's perspective on productivity. So, from the very first time that I practiced medicine, it was all about the mission and seeing people as the most critical element. I was very energized by the sense of purpose everyone shared.
I took that experience to Johns Hopkins, where I spent three years training in preventive medicine. I found that most diseases on the rise—diabetes, heart disease, etc.—were largely preventable through what people eat, how they move, and what they think.
Then I became a flight surgeon for seven or eight years, flying on aircraft all around the world, becoming a part of that mission. I realized that until you walk in the shoes of the employees you serve, you don't understand their lives, you don't understand their families, and you don't understand their missions.
These experiences taught me to focus on how a person's health and wellness influence their performance within an organization.

Q: What are the most significant health challenges facing workforces today?
A: Modern workforces face both systemic and cultural challenges. That's why employers need aggressive partners to help them reduce barriers to better health for employees and families.
For example, the food choices we have today are toxic, and they're getting progressively worse. Highly processed foods can cause inflammation, which leads to conditions like hypertension, heart disease, and colon cancer. Americans consume unbalanced diets that include far too much meat, dairy, and saturated fats—and not enough fresh fruits, vegetables, or whole grains.
Another challenge is people leading sedentary lifestyles. As a country, we sit far too much—and it's no wonder why. We don't have safe public green spaces, we have neighborhoods [that aren't very walkable], and our 24/7 attachment to technology robs us of physical activity.
Stress and isolation are also of concern. More people than ever are reporting feelings of anxiety, depression, and loneliness. Our connection to technology, especially social media,
is exacerbating those feelings. As a result, many people don't feel connected to a group or community anymore.
These are all factors that can influence the worksite. That's really a huge part of how Workpartners can help employers. We teach them how to develop better policies and practices that center on employees and support their overall health and productivity.
Q: How have companies' attitudes toward employee health and benefits changed throughout your career?
A: I've had the opportunity to work with many employers, and I see some promising signs. A lot of leaders acknowledge that their employees are their most important asset. The question is always, "What's the best way to support them?"
Businesses love roadmaps. They often have long-term plans for product designs or go-to markets. So, in 2013 we created the Employer's Health and Productivity Roadmap to help employers understand how to produce a high-performing company that puts the health, safety, and performance of employees and their families at its core. It's based on peer-reviewed research about what works.
Each of the elements of the roadmap helps employers address different challenges. First, we take a baseline using an instrument we call the HAPPI score, which assesses key indicators that influence health, wellness, and productivity.
As you walk through the roadmap, each element addresses a specific area that corresponds to improving your HAPPI score. Sometimes it's the physical environment. Sometimes it's aligning employee incentives to health and productivity goals or optimizing a company's benefit design, chronic disease management, or health coaching.
Q: The pandemic has shown how crucial physical and mental health supports are for employers. What programs or services should employers consider offering to employee populations?
A: Employers really need to look for programs that address their employees' holistic health and wellness needs—that's really what makes a difference in controlling health costs.
By the time we get to a specific disease management program, we're too late. We're not trying to control a disease; we're trying to focus on supporting a person so they can achieve better health, safety, and personal and professional performance.
So, we're focused on things like:
Employee assistance programs (EAPs).
Wellness incentives.
Behavioral health supports.
Access to physical rehabilitation programs instead of surgery.
Access to primary care.
Q: How do you think hybrid or remote work will impact companies' ability to influence their employees' health and productivity?
A: If there is any silver lining to COVID-19, it's that it caused us to slow down. On the one hand,
at least anecdotally, we became more sedentary and more isolated, and those were not good things. But on the other, we gained an appreciation for our communities and the time we were able to spend with our "quarantine pods." We also gained the ability to take all of that time we spend commuting to and from work and put it toward other priorities.
Smart employers will help employees find the right work-life balance and foster healthier behaviors—whether that's time with family and flexibility in schedules, an emphasis on home-cooked meals, reducing stigma around mental health, or increasing human connection.
Q: What does the future of HCM look like if Workpartners succeeds in its mission and vision?
A: For large, publicly traded companies, it means higher earnings per share. For private companies it means growth and productivity—achieving their business objectives faster. For nonprofits, it means fulfilling their missions in the most effective ways.
This is because people activation—putting the employee and their family at the center and looking at the whole context—is the only approach that works.
Engaged, activated people are essential to a business' success. Workpartners' approach integrates tools and offerings that can energize and optimize a company and result in a sense of purpose and passion. That's really what motivates us as human beings