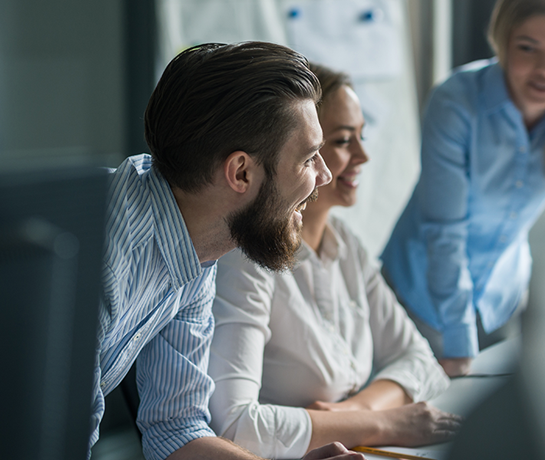 Absence Management
Integrated absence management is our business
It's no secret that the most successful absence management programs "tie together various programs, such as workers comp, short-term disability, long-term disability, and the federal Family Medical Leave Act and Americans with Disabilities Act, as well as group health and overall wellness programs." However, most HR departments are not fully equipped to monitor all facets involved in properly integrating these services.
That's where WorkPartners can help. When clients transition from a self-administered absence management program to third-party administration, they can anticipate "significant savings in costs [as high as 40 percent], as well as administrative efficiencies."1 In addition, integrated absence management programs decrease worry for employers, and increase product usability and overall wellness for employees. One benefit of integrating absence programs is streamlining the intake process for FMLA, sick leaves, and STD programs through the use of a dedicated intake specialist. WorkPartners' intake specialists alleviate the burden on HR to help employees navigate the leave process. Plus, they can connect employees to existing EAP and wellness programs so that employees receive the right services at the appropriate time and return to good health and work sooner. Furthermore, leave specialists help ensure that employer leave processes meet local, state, and federal regulations, thus reducing the risk of noncompliance and any possible litigation. Employers can avoid wasted time off when all absence programs are aligned and total time away from work can be tracked to corroborate any absence patterns or excess usage for possible abuse. In order to achieve this, we perform ongoing reviews and analysis, investigate inconsistencies in documentation, engage the physician for verification, validate that the leave time is reasonable for the diagnosis, and engage in surveillance activities with client permission. We also coordinate return-to-work processes to ensure timely notifications. This way, appointments to clear employees in safety-sensitive positions can be coordinated in advance — which addresses another area where extra time away from work can be lost. Ultimately, the goal is to return employees to work in a timely and appropriate manner. The process becomes easier when employers integrate some, if not all, available leave and disability programs, which in turn reduces leave frequency, severity, and costs.
To learn more about how our absence management programs and solutions can help your organization, click here.