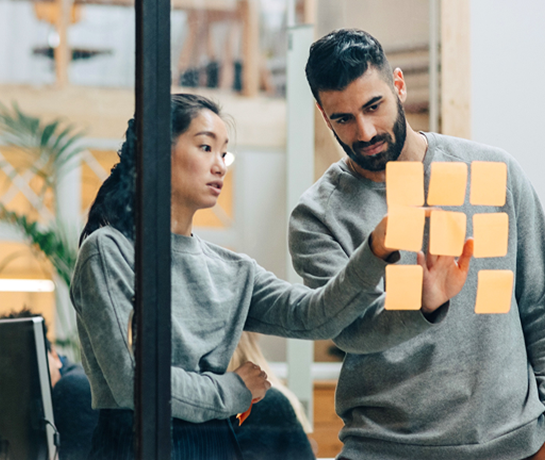 Employee Productivity
Aligning employee performance with employee wellness
Simple policy changes that maximize performance and productivity
A company's most valuable asset is its workforce. Offering the right employee incentives can be complicated, but Workpartners® has the experience and expertise to align your health plan design, benefits, and compensation in ways that may help maximize employee engagement and productivity.  
Helping those most in need
By analyzing your medical, pharmacy, and other workforce data, you will be better able to understand your employee risk cohorts (high, medium, and low). Your high-risk employees often drive more than 50 percent of your health care costs, and this group usually includes those with several diagnoses, multiple provider interactions, and multiple medications. Once your cohorts are identified, Workpartners' KnovaSolutions clinical decision support team will take action. A dedicated nurse will reach out to high-risk individuals and take a person-centric approach to helping them navigate their complex medical situations.
Our experts will then help your employees develop an action plan that empowers them to take control of their lives.
With our help, you may improve your employees' health and productivity while reducing your benefit costs.
Empowering employees
When you design your health plan, benefits, or compensation structure, you need to consider how these offerings can encourage behaviors that lead to better work performance and improved employee health. Aligning an incentive framework with the aforementioned goals can fast-track your employees' journey to better health and allow your business to see greater productivity.  
Let's say a salesperson closes a $1 million account. The company is better off because it just booked $1 million in revenue. The salesperson is better off because they earned a commission on the deal. Workpartners takes that framework and applies it to benefits, health, and wellness to create win-win situations for businesses and their workers.
When you are designing your employee incentive framework, make sure your employees will benefit when they engage in behaviors that aid the organization. That means offering the best health plan to promote health and wellness, not just supplying a dozen low-quality choices. It means engaging with employees and asking what benefits they want and need—and understanding that those benefits come with a cost. It also means setting performance expectations for your workers and clearly explaining that their incentives are based on whether they meet (or exceed) those expectations.
The right benefits to help those in need
Disability plans provide necessary support for employees who miss work because of an illness or injury. The key word here is "necessary." A disability plan that provides 100-percent pay during an absence incentivizes employees to use the benefit for as long as possible.
A better option is a disability plan that provides both a substantial percentage of an employee's pay and support that will get the employee back on the job as quickly and safely as possible. This approach ensures that the employee doesn't suffer financially, and it simplifies the return-to-work process. The employee receives timely medical care and connects with helpful wellness or employee assistance program services to aid in their recovery. They then return to full health—and to work—quickly and safely.
For more information about how Workpartners can help you maximize your employees' productivity and well-being, call 1-866-229-3507 ext. 1 (TTY: 711).