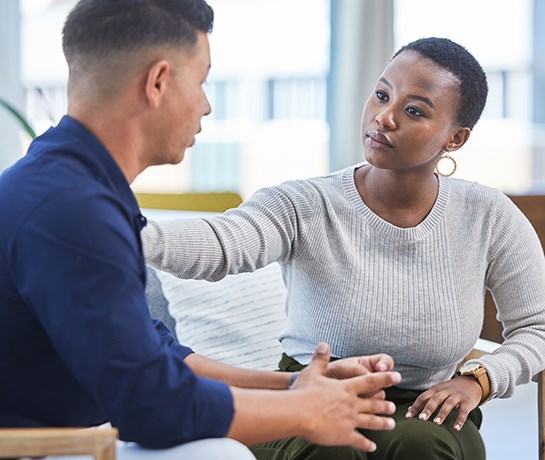 Employee Assistance Program
Help for employees with substance use issues
Substance use in the workplace can compromise the safety of your employees. It also costs businesses billions of dollars each year in lost productivity, turnover, and health care expenses. But substance use carries a stigma, and addressing substance use-related performance concerns can be difficult for everyone involved.
Workpartners can help employees who are struggling with substance use issues. Our employee assistance program, LifeSolutions EAP, can provide referrals for testing and treatment centers and counseling for family members. Our staff can also help train managers and supervisors on how to identify employees who may have an issue with substance use. In addition, they are available for consultation on how to best help an individual you're concerned about. 
Before meeting with an employee who may be struggling, you should talk to one of your HR representatives or a LifeSolutions EAP counselor about the situation. During the meeting you should indicate that you want to help the employee, not reprimand or punish them. The discussion may upset your employee, so when you share your concerns it's important to stick to the facts. Don't say, "Everyone said you looked drunk when you came to work." Instead, say, "When you arrived today you smelled of alcohol and your speech was slurred."
It's important that you remain calm, acknowledge how uncomfortable the situation is, and reassure your employee that their welfare is your primary concern. Provide a list of resources that can help—including those offered by LifeSolutions EAP—and end the meeting by making sure your employee knows where to go for assistance and that you support them.
For more information on how Workpartners can help your organization address substance use issues, contact us today.