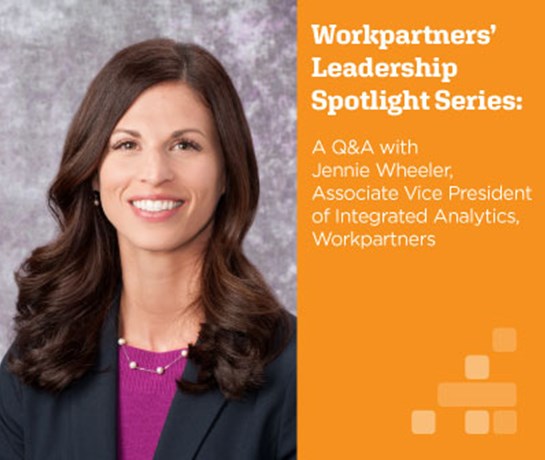 Company News
Workpartners' Leadership Spotlight Series: Jennie Wheeler
A Q&A with Jennie Wheeler, Associate Vice President of Integrated Analytics, Workpartners
Jennie Wheeler joined Workpartners® 16 years ago and has leveraged her passion for data to help the company expand its productivity, well-being, and absence offerings. She previously worked as an enterprise resource planning consultant. That experience, combined with her background in finance, made a career in analytics a natural fit. After joining Workpartners, she focused on expanding the use of analytics within each Workpartners service line to help them differentiate in the marketplace as well as exploring the value of integrated analytics across these service lines.  
"I found a huge opportunity to help from an analytics and data standpoint—to help tie together all the programs and services we offer," she said. "Throughout the growth of Workpartners, we realized that when you tie all of this data together, you see so much more. You get that full view of costs. And that's where I've tried to contribute the most: to help our clients see a more holistic view of their business and understand the impact their decisions have across all their benefit programs."
Q: What are the biggest challenges employers face in the workplace today?
A: That's the million dollar question. Put simply? Costs.
Employers have all these different benefit offerings. But if you think about it, they're focused on their industry and achieving their company's goals. They likely aren't health care or insurance experts. They offer health care and benefits to attract and retain top talent, but focused monitoring on the performance of their benefits and continually identifying areas for actionable opportunity are not their main concentration areas.
So, to ideally mitigate costs, they need to bring all of the benefit program data together to make sense of it and figure out the areas of opportunity to reduce costs, reduce unscheduled absence, and improve employee engagement. It can be really tough because data comes in all these different siloes, and there are so many opinions on where to focus as well as shiny new tools and programs from which to choose.
The key to controlling costs is not just understanding employees who have health conditions. You need to get the whole picture: health, skills, motivation, productivity, and performance. That helps employers uncover subpopulations of risks and learn how to best support their employees.
Q: With the emergence of big data and advanced analytics, employers are constantly trying to do more with data. What are the essential elements of successful data/analytics initiatives?
A: The first thing employers need to do is identify the problem they're trying to solve. By understanding the pain points—whether it's out-of-control medical spending, high absenteeism, or poor retention—you can start to think through the data you need to address the challenge.
I really try to encourage employers to start there because you don't have to dive in and connect every data set you've ever created. That can lead to a lot of noise. But if you warehouse your data in an accessible way and then layer in data, employers can add color and depth to the problem they're trying to solve.
Once you have a complete picture—not just the medical and pharmacy claims, but things like self-reported lifestyle risks, absence patterns, socioeconomic risk indicators, clinical program usage, performance data etc.—employers can build holistic, customized support that gets to the root cause of the issue. And that root cause may be something the employer never even considered because it was hidden before integrating the data.
Q: What questions should employers ask before choosing a human capital management vendor?
A: They should look for a partner who has subject matter expertise in the data with which they're working. They should find vendors that don't just churn the data and redisplay it into pretty dashboards but have the expertise to curate and interpret it into knowledge and insightful visuals. Employers need a partner that can transform their data into proactive strategies that activate employees.
That's where Workpartners is unique. We're not an independent technology or data warehousing company. We actually provide the programs, services, and benefits as a carrier. That mix, along with our robust analytic capabilities, helps our clients determine the right suite of benefits for a workforce by giving employers insights into how their benefits could best be used.
Q: If Workpartners succeeds in its vision, what does the future of human capital management look like?
A: It's really about enabling employers to optimize their most important resource: their employees. When companies use the People Activation approach, everyone wins. Employers and employees feel a sense of shared responsibility and enjoy shared rewards. Employees and their families feel supported because they have access to the benefits and services they need. And employers provide the right mix of benefits, programs, and services while managing their costs and achieving their business goals.